Why Choose Our Organic Açaí Sorbet?
Not only is it a sweet indulgence, but it's also a guide for an easy Açaí bowl or smoothie. Açaí is harvested by hand from Açaí palm trees for centuries, Açaí is high in antioxidants and healthy omegas 3, 6, and 9, while free of naturally-occurring sugars. But not all Açaí is created equal. SAMBAZON brings you the highest-quality Açaí available: Fairtrade, organically-grown, ethically sourced—and extra delicious. From the palm of the tree to the palm of your hand.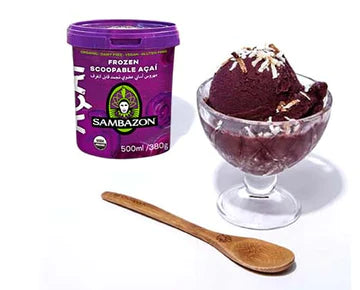 Step Up Your Dessert
Craving a snack? Anxious for a treat? Our Frozen Açaí Sorbet will hit the (sweet) spot. Whereas most snacks and desserts are packed with unhealthy "fillers", our refreshing non-dairy sorbet delivers superior taste and high-quality ingredients to frozen dessert. 
Where to Buy Our Açaí Sorbet
There's no need to trek to the Amazon. Our Açaí products can be found in any major retailer, including Pão de Açúcar, Carrefour, St Marche, BIG, Zaffari/Bourbon and Sonda. Shop, stock up, and save lots by making Açaí bowls and smoothies at home.
FIND A STORE NEAR YOU